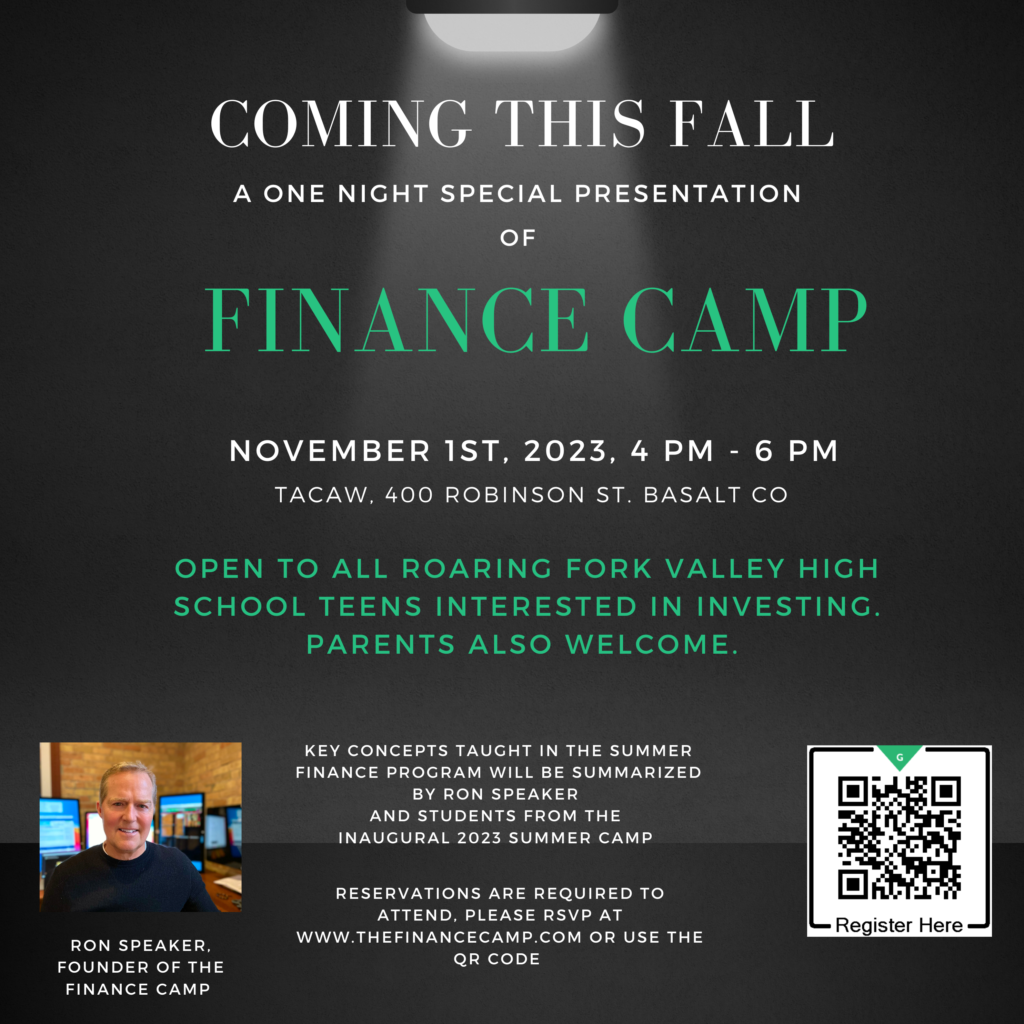 The Finance Camp is an investing mentorship program for 12 unique students. Designed as an intensive week of in person, hands on, interactive and presentation-based learning. Students will be actively using computers, software programs and trading websites not typically available to teens.
We will cover basics and advanced concepts of investing while transacting using real funds provided to each student. We will utilize carefully selected video content from wall street history and cinema to provide a perspective on the evolution and careers in finance. Several guest lecturers will share their unique experiences in specific assets classes from private equity to crypto currencies. The camp will run from 9am to 4pm and lunch will be provided each day.
There is no financial cost to students or parents for this camp as it's my give back to help mentor a new era of young investors. Your hard work, engaged participation, and full attention can help you earn a $750 bonus for your trading account and potential grand prize of $5,000 at the end of year.
Let's go!
Ron Speaker
See my short intro video below.
Camp Day 1
Intro to the history of Wall Street, the exchanges, and evolution of its products.
---
History of the famous investors, heroes and villains of Wall St.
Investable assets and exchanges.
Activation and funding of student accounts.
Watch highlights from "Trading Places" followed by discussion.
What makes a good business?
Camp Day 2 – 5
Broad curriculum and testing.
---
How to read financial statements.
Technical analysis.
Guest lectures.
Using put and call options.
Crypto currency.
Real estate investing.
Final exam. Students who achieve 75%+ correct receive a $750 bonus payment to their account.
June to Dec. 2023
Trading Challenge Begins and Runs Through Year End.
---
Each student is in charge of managing their own account.
Instructor will be available for consultations.
The student who grows their capital the most with verifiable trades wins the grand prize.
All student results will be posted on group chat board.
To learn more about my other financial education offerings please click the image below to my umbrella website, TheFC.me.